Made to Shade
For excellent UV protection while maintaining your view of the outdoors, Designer Screen Shades are available in sturdy and easy-to-clean fabrics—perfect for your any room in your home, patio or sunroom.
Protect your furniture, flooring and artwork from fading with at least 75% protection from harmful UV rays.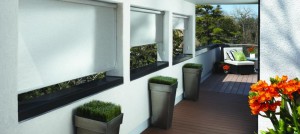 Solar Heat Control
The warmth provided by the sun, its solar energy, may be desirable during the winter to help heat your home, but in the summer, it can make a room overly hot and uncomfortable, driving up air conditioning costs. Many Hunter Douglas fashions help to control solar heat by allowing it into your home in the winter and minimize the amount that comes in during the summer.
Without energy-efficient window treatments, as much as 50% of a home's heating and cooling energy can be lost through its windows. All Hunter Douglas window fashions provide window insulation, offering your home increased protection against heat loss during the winter, as well as minimizing the sun's heat or "solar heat" during the summer.
Virtually every Hunter Douglas product filters out at least 75% of the sun's harmful UV rays when installed over double-glazed glass windows.
Ultraviolet Protection
The ratings of Good to Excellent to Superior for this product will partly depend on the fabrics and product features you choose.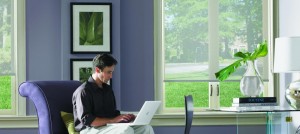 CONTROL FROM YOUR PHONE OR TABLET
Controlling your window treatments with a mobile device means you can set your blinds to movie mode, work mode, or 8 a.m. mode with the touch of a button, without leaving your seat. It's effortless, fun and smart—with perfectly smooth operation.
Get an in-home consultation
Let our expert do the work measuring dimensions, assessing your room's lighting, and making sure your purchase is perfectly customized to your home. Call us 250-498-4215 today!
Enjoy seamless installation
Relax and let our professional technicians do what they do best. And know you're covered under our lifetime guarantee.
Looking for other solar solutions?
Increase your outdoor living space with beautiful and practical solar screens and awnings. Learn about other products we offer.