Colour Of The Year: Chinese Porcelain

Find peace in a restless world.
In a world where sleep is viewed as a luxury and the anxiety of a fast-paced world is all too real, it's only fitting that the color trends for this upcoming year offer escapism in today's technologically-driven society. Hand-selected by PPG's global color experts, the PPG paint brand's 2020 Color of the Year, Chinese Porcelain (PPG1160-6) is a blend of cobalt and moody, ink blue that imparts calmness and restful sleep while also offering the spirit of hopefulness – a rare commodity in a restless world.
Serenity in any space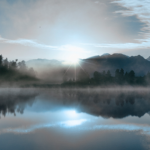 "The faster technology moves and the more convenience it offers, the more we seek activities, experiences and lifestyles that impart slowness and realness into our lives," explains Dee Schlotter, senior color manager, PPG paint brand. "The need for simplicity and escapism from technology is in part, the reason that consumers are craving blues like Chinese Porcelain that bring us closer to natural elements such as the sea and sky – the horizon spot, creating serenity in any space."
Rich and traditional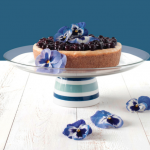 Chinese Porcelain is a rich and traditional hue that provides the perfect, agreeable backdrop for vivacious colors to pop. It can also act as a feature color in a bedroom with crisp white bedding and crown molding to provide a sharp contrast. In living room space, layer the hue with additional blues in tufted and velvet furniture, or pair with trending metallic finishes like Hushed Copper (MTL141), from the PPG METALLIC TONES™ collection.
Color to delight the senses
"As we look to 2020, we know that color is the trend. Consumers are tiring of stark grays and are looking to infuse colors that delight the senses," said Schlotter. "Blue is the easiest possible entry point from the world of neutrals to the world of color, and PPG's Chinese Porcelain delivers the energy and brightness of cobalt blue – a trending hue taking the automotive, consumer electronics and fashion industry by storm. It also incorporates the enveloping of a deep, muted navy tone that is popular in residential and hospitality design."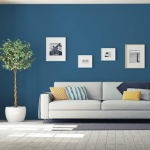 Chinese Porcelain
PPG1160-6
Chinese Porcelain is a deep, shaded, orchid blue with a violet undertone. It is a perfect paint color for a foyer. Pair it with brushed gold accents. What room would you like to paint this year?