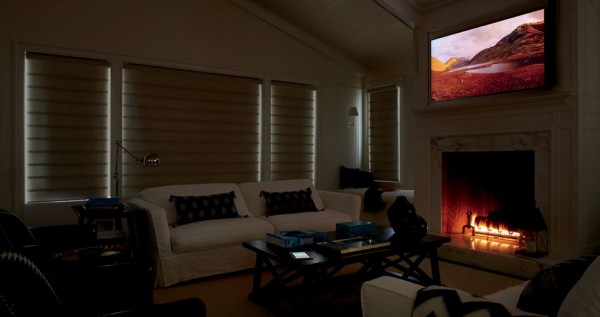 Learn the difference between room darkening shades & blackout blinds. Discover the perfect window treatment solution at Hunter Douglas to suit your individual room needs.
(Above) Vignette® Modern Roman Shades Fabric: Leela Color: Escape
Blackout Shades: Which Blackout Shades Do I Need?
Need custom blackout shades for your bedroom to help you sleep more soundly? Want to reduce glare on your television when watching a movie? Hunter Douglas offers a range of light-blocking shades for the right amount of room darkness. But with so many options, deciding what room darkening shades to buy can be challenging. Roller? Cellular? Cordless? Dark-colored or white blackout shades? Here are a few tips to help you make the best decision.
ROOM DARKENING BLINDS & FABRICS
While every Hunter Douglas window treatment provides some measure of light control, some room darkening shades offer more benefits than others. A key consideration is fabric type and color. Sheer fabrics typically soften and filter sunlight, while semi-opaque and opaque fabrics almost completely block it. We say "almost" because these fabrics darken a room but do not entirely eliminate light.
​
'BLACKOUT' EXPLAINED
If you want to block out as much natural light as possible, look for Hunter Douglas window treatments with maximum light-blocking qualities that are uniquely designed to minimize light gaps, seams and rout holes, such as the de-Light™ feature on many of our wood and metal blinds. Or, achieve unparalleled room darkening with our new Duette LightLock™ system, which features patent-pending light control technology that absorbs light, preventing it from entering the room.
LINERS
Another option for blocking light is a room-darkening liner, which is available on many of our window shades. The liner can be sewn directly into the face fabric, or for ultimate flexibility, may be able to operate independently.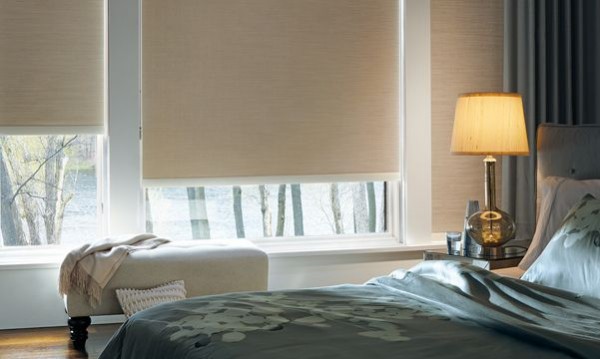 BLACKOUT ROLLER SHADES – ELEGANCE AND SIMPLICITY
Roller shades combine a sleek, modern design with the ability to create just the right amount of light and privacy while minimizing glare. And while you could opt for anything from semi-opaque to opaque, blackout roller shades enable you to enjoy complete darkness any time of day.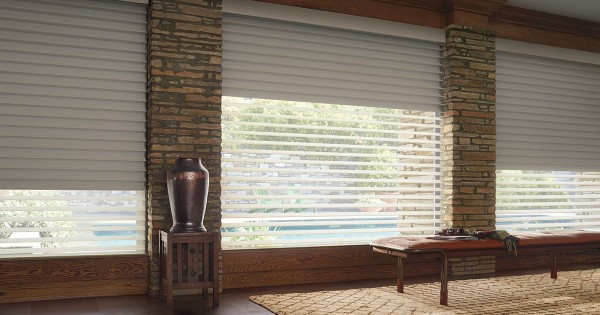 Silhouette Duolite Window Shadings
For even more versatility, Silhouette® Duolite® is two shades in one, providing all the benefits of a traditional Silhouette shading but with an independently operated room-darkening roller shade nestled behind it. You can position the roller shade at any height for increased light control and privacy.
Or consider the revolutionary Vignette® Duolite® which combines a light-filtering or sheer front shade with a room-darkening back panel that both roll on a single roller. This dual-opacity option perfectly answers your desire for the best of both worlds—soft, natural light or soothing darkness.
Duette honeycomb shades with LightLock™ system
LOOK BEYOND LIGHT CONTROL WITH A CELLULAR SHADE
If you want the added benefit of reducing heat in the summer or cold in the winter, a honeycomb shade has a cellular design that adds a layer of insulation at the window. For added energy savings, Duette® Honeycomb Shades offer both a single construction and a honeycomb-within-a-honeycomb design called Duette Architella®. Architella shades feature more layers of fabric and insulating air pockets, allowing them to provide even more energy efficiency. These shades can even reduce outside noise.
For room darkening in your bedroom, nursery, or media room, opt for the Duette LightLock™ system with its unique U-shaped side channels that overlap the front and back of the shades. The secret to unparalleled room darkening lies within the patent-pending side channel design—which features rows of specially shaped micro-ridges, optimized to absorb or deflect nearly all incoming light while preventing the light from seeping into the room.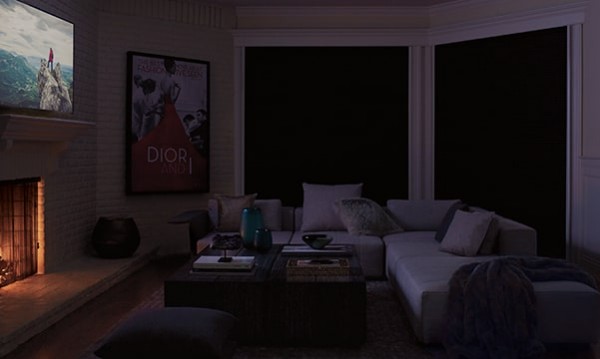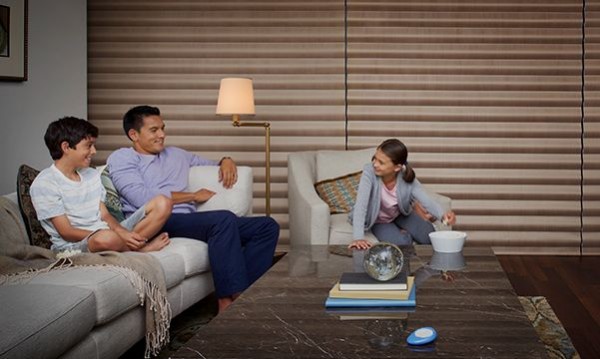 Pirouette window shadings
NO STRINGS ATTACHED
Something you might consider is a cordless blackout shade for a clean, uncluttered look. The great thing about no lift cords is that it's a safer choice if you have children or pets. There are a lot of cordless options out there, including LiteRise®, which enables you to raise and lower your shades by just lifting or lowering the bottom rail. There are also automated shades (both battery-operated and electric) that let you program your shades right to where you want them and then control and schedule them using your remote, an advanced scene controller or an app on your phone or tablet.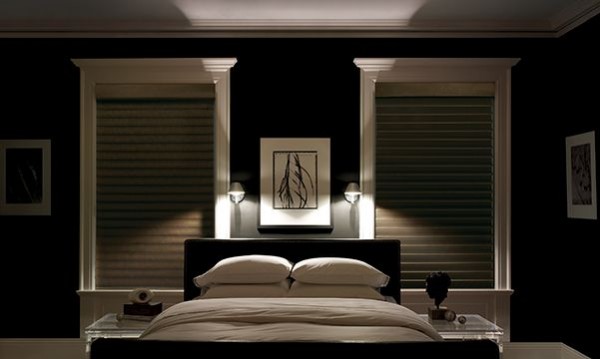 Silhouette window shadings
WHICH ARE THE BEST BLACKOUT BLINDS & SHADES FOR YOU?
There are so many options for blackout blinds and shades that it really comes down to taste. If you really want to block out as much light as possible, make sure to choose window treatments with maximum light-blocking qualities that are able to minimize light gaps, seams and rout holes, such as the de-Light feature offered on many horizontal blinds. Another option is to consider a room-darkening liner that can be either sewn directly into the face fabric or operate independently. With so many choices these days, it's easy to find the right blackout blinds & shades for your unique needs.